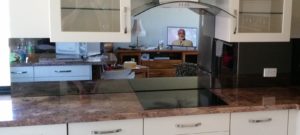 At A Splash of Glass we know that a #glass #splashback can make or break a #perth #kitchen, some colours just don't work together.That's why if someone contacts us at the start of #building or #renovating in #perth we can help advise even down to #benchtop colours of what sort of #glass #splashback will work with it's surroundings.
For instance a black or white bench top will give a client a wider colour choice as most colours will suit them, a fussy benchtop with lots of different colours or shades narrows down the colours that will work with it.
A good choice of splashback for a benchtop with multiple colours or shades in is our #mirrored splashback called #reflections which works in any kitchen and adds a touch of class.
Visit our Facebook page to view hundreds of photos and check out our reviews from perth clients.
www.asplashofglass.com.au